Cycling through the Baltics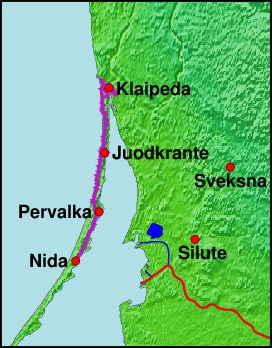 The Coronian Spit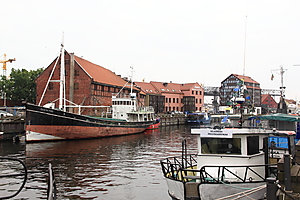 Old habour of Klaipėda. The Coronian Spit is a 98 km long thin sand-dune spit. Half of it belongs to Lithuania, the other half is part of Russia. When staying in Klaipėda, Lithuania's most important harbour, the bike is the perfect mean to visit the Coronian Spit. Bikes can be rented from a shop right next to the harbour. Thanks to a bright white bike suspended above its entrance, the shop is hard to miss.
Cycling path on the Coronian Spit. Klaipėda itself is situated on the mainland. The Coronian Spit can be reached by ferry. By foot or bike, one can take the ferry from the old terminal close to the city center. Cars and buses have to use the new terminal south of the city.
Crossing over to the Coronian Spit costs 40 cents per person. Bikes are free. However, as one has to pass gates, it is advised to ask for a ticket for bulky items.
The cycling path along the spit starts right across from the pier. Throughout the way, its quality permits comfortable cycling. Riding a bike on the street isn't allowed.
Cycling path on the Coronian Spit. The cycling path leads, first through a forest and then along the dunes on the outer side of the Coronian Spit. It is possible to cross over to the beach. In Catholic Lithuania, the beaches are sometimes separated by gender; signs indicate beaches reserved for women or men. The middle part of the Coronian Spit is a natural reserve. Here, it is not permitted to leave the cycling path. Fences block access to the dunes. Halfway to the Russian border, one passes the town of Juodkrante. A short, steep climb has to be mastered to cross over to the small town on the inner side of the spit. Several benches with a view on the sea and the main land invite for a break. However there are no beaches where one could go swimming.
Cottages in Nida. The middle part of the journey to Nida is very calm, but the number of cyclists increases the closer one gets to Nida, a tourist town near the Russian border. Many stands lend bikes, which family use for short tours. Huge dunes tower behind Nida; they mark the Russian border. The route is mostly flat and the 100 km forth and back between Klaipėda and Nida can easily be done in one day. Nonetheless one should keep an eye on the time as the ferry back to the mainland only leaves once every hour in the evening.
| | |
| --- | --- |
| Signs indicating gender separated beaches near Klaipėda. | Old harbour of Klaipėda. |